Got stage fright? If the idea of acting gives you hairballs, there's good news: you don't have to audition to help out. Ushers, backstage run crew, choreographers, directors, and many other unseen volunteers are vital to the life of your theater. But, there's also improv for those inclined to get on stage. It's pure creative acting at its most fun. Check out where we need help.
BEHIND THE SCENES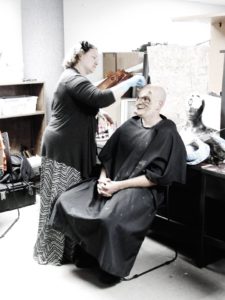 Set Building and Painting – Handy with tools or paint brush? No? We'll teach you.
Run Crew – Move scenery, set props, bring in a drop, or pull the Grand Drape.
Props – Obtain and fabricate the furniture and hand held items needed on stage.
Hair and Makeup – Help characters 'come to life' with extraordinary hair and makeup.
Costumes – Create the costumes that take the audience to another time and place.
Director – Work with the actors and production team, overseeing the creative process of bringing a show to the stage.
Assistant Director – Help the Director with notes, communication and artistic decisions.
Stage Manager – Run the show from backstage calling cues, keeping cast, crew, sets and props organized, and ready for action.
Assistant Stage Manager – Help the Stage Manager run the show.