Audition Info for 2023/2024 Season
Crazy For You
Twelfth Night
Christmas Carol
Leading Ladies
Postmortem
Crazy For You

Feel free to come to auditions whether you fill out the form or not 🙂 
Additional Information
Production Dates- Friday-Sunday October 27th-29th, Friday & Saturday November 3rd & 4th

Rehearsal Schedule– Starting September 11th, each week Monday-Friday. 6:30pm-9:30pm. Saturday afternoons as needed. A more detailed rehearsal schedule will be dispersed as potential cast members give conflicts to the production staff.
Musical Pieces for Auditions –Available by clicking the link
CRAZY FOR YOU – PRINCIPAL CHARACTER VOCAL RANGES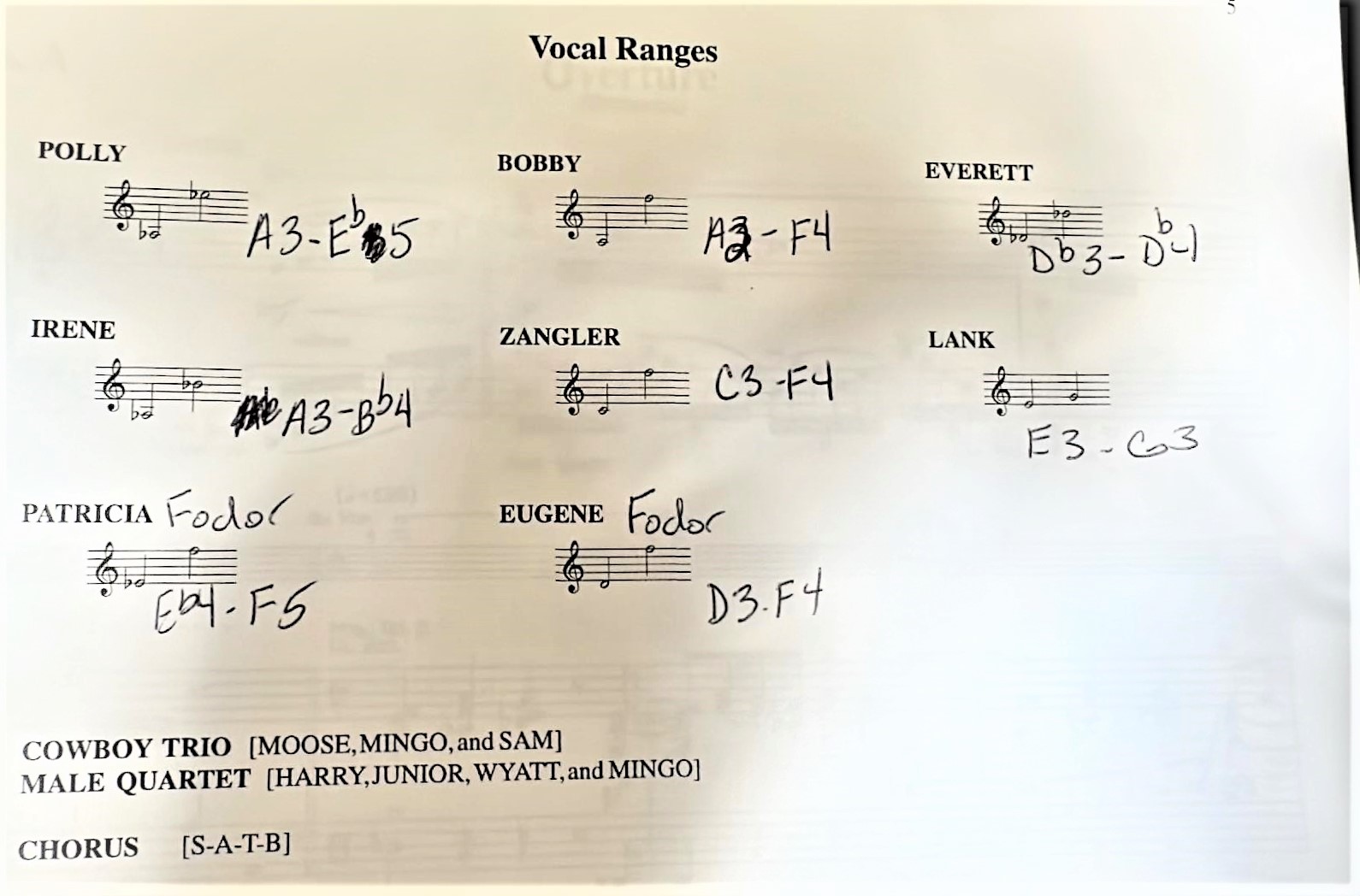 CRAZY FOR YOU – PRINCIPAL CHARACTERS
BOBBY CHILD – Leading Man, baritone, aged 25- 35. Bobby is a New Yorker in love with musical theatre but is forced to work in a bank by his controlling mother. He has been engaged to Irene Roth for 5 years but doesn't want to marry her. When he goes to Deadrock to escape Irene, he meets Polly, falls instantly in love with her and decides to put on a show to pay off the mortgage on her father's theatre . In order to receive respect, he entices the Zangler folly girls to come to Deadrock and disguises himself as Bella Zangler, the established producer. Bobby is involved in 12 songs so needs to be a strong singer, actor, tapper and ballroom dancer for his "Fred and Ginger" type numbers with Polly.
 POLLY BAKER – Leading Lady, mezzo, aged 20 – 30. Polly is the only female living in Deadrock where she is the postmistress and "all American girl". The men adore her but Lank Hawkins is always asking her to marry him. She tries not to show her love for Bobby when she discovers that he is from the bank which wants to foreclose on her father's theatre. Then she falls for Bobby disguised as Zangler but naturally true love prevails and the pair finally end up together. Polly is involved in 9 musical numbers and needs to be a good tapper, soft shoe and ballroom dancer with a strong voice.
 BELA ZANGLER – Male supporting role, baritone, aged 35 – 55 with a Hungarian accent. Zangler is an established New York musical producer and theatre owner. He follows Tess, his dance director, to Deadrock despite being already married. Zangler enjoys a very funny drunk scene and duet with Bobby so needs to be a good character actor.
 LOTTIE CHILD – Non singing female role aged 45 – 60. Lottie is Bobby's business orientated and controlling mother who gives him an allowance. She wants him to forego his ideas of being in musical theatre and make a career in the bank . She is a very bossy and overbearing woman.
 IRENE ROTH – Supporting mezzo role, aged 25 – 33 . Bobby's domineering fiancée engaged to him for 5 years. Irene follows him to Deadrock and finally accepts the fact that Bobby won't marry her because he loves Polly. Then Irene falls madly for Lank Hawkins whom she seduces with her only song "Naughty Baby." She needs to move well.
LANK HAWKINS – Supporting male role, aged 30 – 45, owner of the Deadrock Saloon. No solos but sings in many of the chorus numbers. Lank wants to buy the Deadrock theatre from Polly's father and has some very funny lines of dialogue. He wants Polly to marry him until Irene throws herself in his direction.
 TESS – Female follies dance director aged 22 –32 who is pursued by Zangler even though he is married. Tess sings and dances with the other follies girls so must be a good tapper.
 PATSY – Female follies girl aged 18 – 32, "dumb" blonde role . Patsy has a high pitched speaking role and sings and dances with the other follies girls. Also needs to be a good tapper.
 EVERETT BAKER – Male baritone, Polly's father, aged 48 – 60. Everett is always reminiscing about how lovely Polly's mother was when she performed in the Gaiety Theatre, Deadrock. Finally, he falls instantly in love with Lottie Child when she arrives in Deadrock.
 EUGENE FODOR – Male baritone, cameo role, aged 40 – 55, an English tourist who with his sister is writing a guide book to the American West. He needs to be able to dance. .
 PATRICIA FODOR – Eugene's English sister, cameo role soprano, aged 32 – 50 and fellow tourist. Also needs to be able to dance.
 MOOSE, MINGO, SAM – All aged 18 – 35, all have small dialogue and form the Cowboy Trio who have solo pieces and sing with the male chorus. Ideally need to be tappers and dancers to partner the follies girls.
 HARRY, PETE, CUSTUS, JIMMY,BILLY, WYATT, JUNIOR—all aged 18 – 35. Harry is the bartender, Billy, Wyatt and Junior are the card players. All these men have lines of dialogue and need to be tappers and dancers to partner the follies girls. All these men involved in staged gun fights for the tourists.
FOLLIES GIRLS – 8 or 10 singing and tapping girls including Tess and Patsy. All must be good singers and
dancers.
Crazy For You – Synopsis

With a book by famed comedic playwright Ken Ludwig and music by George and Ira Gershwin — is the classic tale of a boy, a girl, and a theater in need of salvation. Reluctant banker Bobby Child works
for his overbearing mother, Lottie, but spends his off hours befriending showgirls and trying to sneak in to audition for Zangler's Follies. The Follies is helmed by Bela Zangler, a temperamental Hungarian producer. Unfortunately, Bobby's showbiz career is going nowhere, and his over-bearing fiancé is insisting that he name the date. So, Bobby jumps at the chance to escape when his mother insists
he investigate a defaulted mortgage out of town. In nearly deserted Deadrock, Nevada, Bobby falls for Polly Baker, the only woman in town, whose father happens to own the property in default – the decaying, Gaiety Theater.
 Love struck, Bobby comes up with a plan: call in his friends, the Follies Girls, all the way from New York City, cast the locals– a bunch of rundown cowboys with latent musical talent–and put on a show to save the old building. However, Polly discovers that he comes from the bank and wants nothing to do with him. In order to spend time with the furious Polly, Bobby disguises himself as Bela Zangler. But while "Zangler" is talking up Bobby to the unsuspecting Polly, Polly is falling for the impersonation of dashing, European Zangler…. and when the real Zangler arrives in town, things really get "Crazy! Ludwig's modern and hilarious script combined with a collection of the most beloved tunes of George and Ira Gershwin make Crazy For You a truly delightful homage to the musicals of the 1930s! It's a world of showgirls and cowboys, in which a city boy and a country girl reconcile their differences, fall in love, and save a theater, the old – fashioned way.
Twelfth Night
Christmas Carol
Leading Ladies
Postmortem