Audition Info for 2022/2023 Season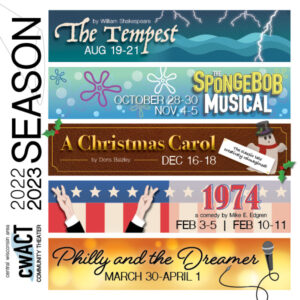 1974

Auditions for our production "1974" directed by Eric Finn. Location The Shack @ 2952 Minnesota Ave.
It's the 70's, again. The war in Vietnam has ended. Women want equal rights. Hippies want legalized marijuana. Walt Disney wants his head cryogenically frozen. And the President wants a way out of Watergate. In a last-ditch attempt to restore his credibility he will address the nation's top news editors at their convention in Walt Disney World. What could possibly go wrong?
Auditions will be done by doing readings from the play. Folks interested in auditioning do not need to prepare a piece.
1974 is a comedy set in a historicial-ish setting written by Local Playwright Mike Edgren.
Cast of Characters
Tris Keebler : Male (20's – 30's)
Rob Foster-Browning : Male (20's – '30's)
Traci Johnson : Female (20's to 30's)
Kat (Katherine) Walder : Female (middle aged)
Pavel Svobodna : Male (middle aged)
A Man : Male
Richard Nixon: Male – voice only
For more information, or if you would like a copy of the script for perusal, please contact plays@cwact.org.
Rehearsals will generally be Monday-Thursday 7p-9p, No rehearsals – week of Dec 26th-30th.
The Christmas Carol
Spongebob the Musical
The Tempest
Coming Soon: 2022-2023 Season Auditions!