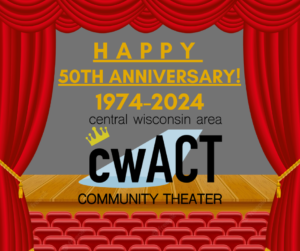 The Artistic Director's responsibility is to provide a stage worthy show for cwACT. New directors are provided a mentor to guide them in cwACT policies. Directors are responsible for assembling their own production team. However, input can be supplied by the mentor and the cwACT Board. 
Approved Director's are expected to sign a Directors Contract as well as provide monthly reports to the Board of Directors. At the present time the role of Artistic Director is a volunteer role and no stipend is provided. 
A copy of the directors contract can be accessed by clicking here
2023/24 Synopses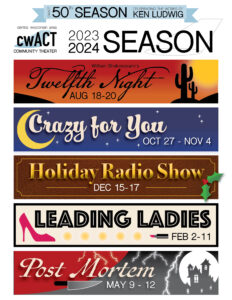 Crazy For You
A zany rich-boy-meets-hometown-girl romantic comedy, Crazy For You® tells the story of
young New York banker Bobby Child, who is sent to Deadrock, Nevada, to foreclose on a
rundown theatre. In Deadrock, Bobby falls for spunky Polly Baker, the theatre owner's
daughter. But Polly takes an instant dislike to the city slicker, so Bobby vows – through
cunning, razzmatazz, and a hilarious case of mistaken identity – to win Polly's heart and save
the theatre. Memorable Gershwin tunes from the score include "I Got Rhythm," "Naughty
Baby," "They Can't Take That Away from Me," "Embraceable You," "But Not for Me," "Nice Work
If You Can Get It" and "Someone to Watch Over Me.
More info at: https://www.concordtheatricals.com/p/44604/crazy-for-you
Leading Ladies by Ken Ludwig
In this hilarious comedy by the author of Lend Me A Tenor and Moon Over Buffalo, two English
Shakespearean actors, Jack and Leo, find themselves so down on their luck that they are
performing "Scenes from Shakespeare" on the Moose Lodge circuit in the Amish country of
Pennsylvania. When they hear that an old lady in York, PA is about to die and leave her fortune
to her two long lost English nephews, they resolve to pass themselves off as her beloved
relatives and get the cash. The trouble is, when they get to York, they find out that the relatives
aren't nephews, but nieces! Romantic entanglements abound, especially when Leo falls
head-over-petticoat in love with the old lady's vivacious niece, Meg, who's engaged to the local
minister. Meg knows that there's a wide world out there, but it's not until she meets "Maxine
and Stephanie" that she finally gets a taste of it.
More info at:
https://www.concordtheatricals.com/p/732/ken-ludwigs-leading-ladies#:~:text=Summary,
the%20Amish%20country%20of%20Pennsylvania.
Portmortem by Ken Ludwig
In this mystery/thriller, which has delighted audiences nationwide, it is April 1922 and the cast
of William Gillette's latest Broadway revival of Sherlock Holmes has assembled for a weekend
of relaxation at his magnificent medieval castle on a bluff overlooking the Connecticut River.
For entertainment, actor-manager, playwright and heart-throb William Gillette, best known for
his 30-year portrayal of the famous crime sleuth Sherlock Holmes, has arranged a séance.
Now the scene is set for his greatest role. Someone is trying to murder Gillette and he suspects
it is one of his guests. Intrepid, eccentric and wildly romantic, Gillette plans to solve the case
himself à la Sherlock Holmes.