Next Final Fridays
Join us at "The Shack" to enjoy some food and refreshments, and to share fond memories from our performances and goings on over the past year.
We'll also be filling numerous vacant seats on the board so if you're feeling like you have any interest in getting your hands on the wheel of the organization or just making sure that the right hands are then make sure you're there!
Please help us out by bring a pot luck item! Let us know what you are bringing!
---
Have you ever wondered what it would be like to be in community theater but were too afraid to ask? Yea, we thought so. Well, we created an event to help with that.
On the last Friday of each month, we host an improv night. It begins at 6 pm with a potluck and snacks, and we spend a little time getting to know each other. Then the improv games begin, and you can participate or just watch and enjoy. At 8:30 pm, we send the kids home and shift into a bit more adult mode, which lasts until about 10:30 or 11. It's really a great was to get to know us and see if community theater is something you want more of in your life. Join us! You won't believe how much fun we have!
Where: cwACT Shack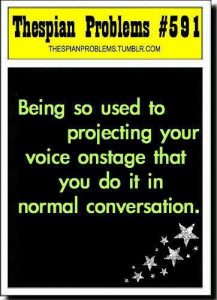 2952 Minnesota Ave. Stevens Point, WI 54481
When: The last Friday of each month. Check our calendar or Facebook page for the exact date. Evening schedule:
6:30 pm Pot luck dinner/snacks/camaraderie
7:00 pm Introductions, warm-up and IMPROV!
8:30 pm – 10:00 pm More improv for those 18 and older
RSVP: Nope, just show up.
What to Expect: An evening of fun while honing your acting skills through Improv. All are welcome! No experience needed, just a desire to have fun, laugh, and get a little silly.
*Donations are gladly accepted to help offset building utilities/maintenance