Five Sure Things
1974
The Tempest
The SpongeBob Musical
CANCELLED - Christmas Carol
Five Sure Things
Production Dates
March 30st @ 7:30pm

March 31st @ 7:30pm

April 1st @ 7:30pm

April 2nd @ 2pm
Location: Sentry Theater
Director: Michelle Nerren, Sierra Lubhan, Tom Russell, and Joe Nowinski 
A Kid Like Jake by Daniel Pearle
A Kid Like Jake is a "dramedy" that is set on the eve of admissions for Manhattan's private schools. Alex and Greg are working on getting their son Jake, a four-year-old who prefers Cinderella to G.I. Joe into a great school. However, Jake's behavior becomes irregular and volatile. This causes other adults in his life to wonder if his fondness of dress-up might be cause for concern.
Words, Words, Words by David Ives
"Words, Words, Words" is a short play about Kafka, Milton, and Swift, three intelligent chimpanzees who are put in a cage together under the experimenting eye of a never seen Dr. Rosenbaum, a scientist testing the hypothesis that three apes hitting keys at random on typewriters for an infinite amount of time will almost surely produce Shakespeare's play Hamlet.
The Philadelphia by David Ives
Confident smooth-talker Allen decides to relax and grab a bite to eat at a local restaurant. He's met there by his friend, Mark, who's having a strange day: everything he wants he cannot achieve, and he has been gradually losing his mind. Allen explains that Mark is in an anomalous pocket of reality called a "Philadelphia", where he can never get what he wants. 
Sure Thing by David Ives
"Sure Thing" is a vignette about a couple that has a chance meeting in a crowded restaurant.
Variations on the Death of Trotsky by David Ives
"Variations on the Death of Trotsky" is a hilarious show about a real Russian historical figure that was exiled to Mexico and later murdered.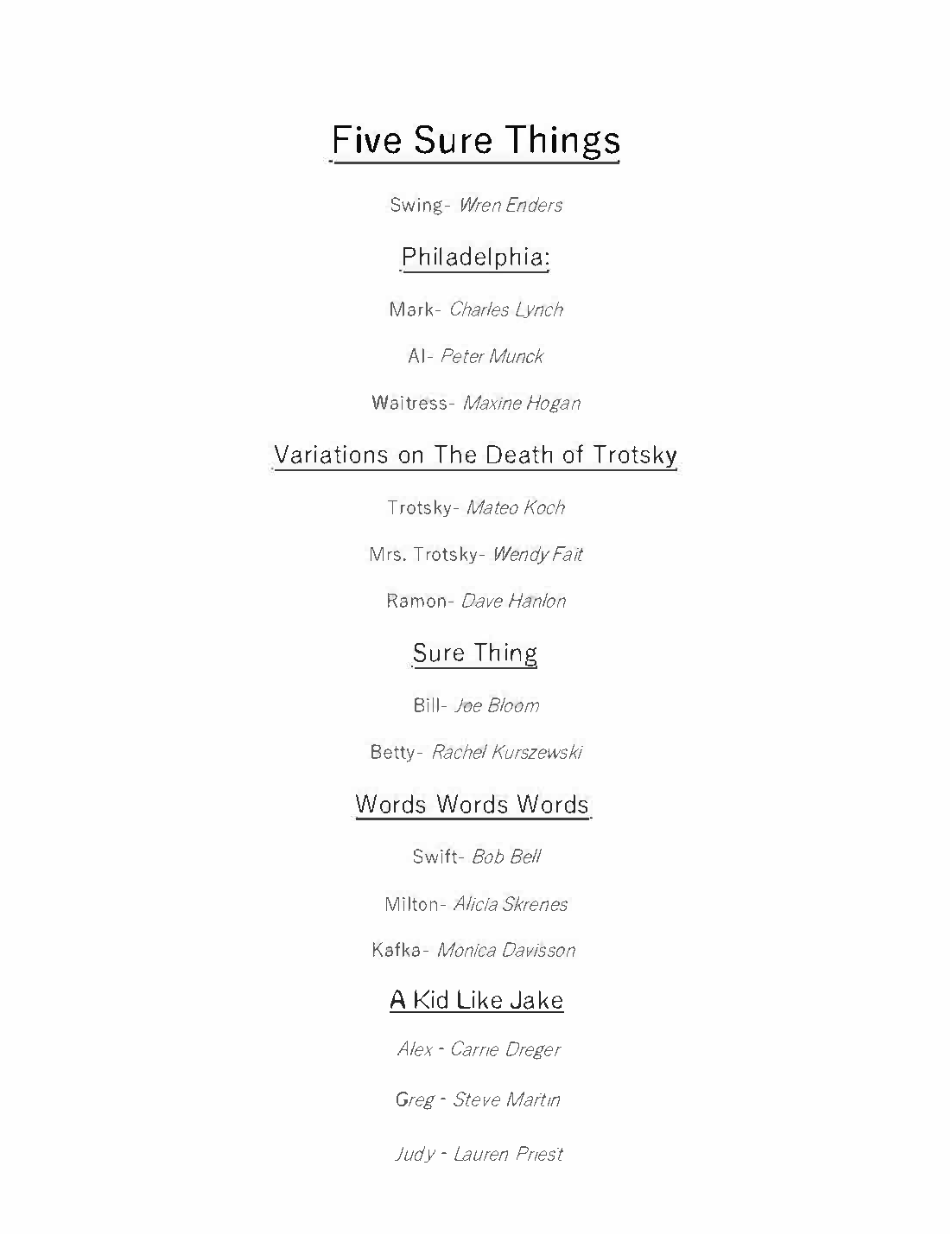 1974
The Tempest
The SpongeBob Musical
CANCELLED - Christmas Carol