Postmortem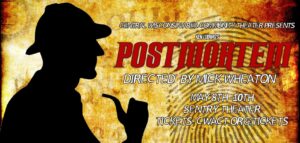 ORDER TICKETS HERE
In this mystery/thriller which has delighted audiences nationwide, it is April 1922 and the cast of William Gillette's latest Broadway revival of "Sherlock Holmes" has assembled for a weekend of relaxation at his magnificent medieval castle on a bluff overlooking the Connecticut River. For entertainment, actor-manager, playwright and heart-throb William Gillette, best known for his 30-year portrayal of the famous crime sleuth Sherlock Holmes, has arranged a séance. Now the scene is set for his greatest role. Someone is trying to murder Gillette and he suspects it is one of his guests. Intrepid, eccentric and wildly romantic, Gillette plans to solve the case himself à la Sherlock Holmes.
Play By: Ken Ludwig
Directed By: Mick Wheaton
Performances – Sentry Theater – 1800 Northpoint Dr. Stevens Point:
May 8 and 9 at 7:30pm
May 10 at 2pm
Barefoot in the Park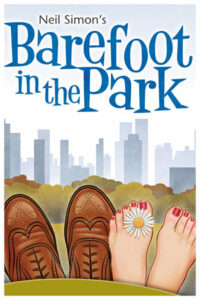 Neil Simon's Barefoot in the Park is a romantic comedy focusing on a pair of newlyweds, Corie and Paul, as they begin married life in a tiny, 5th-floor walkup apartment in a Manhattan brownstone. Paul is a strait-laced attorney; Corie has a far more spontaneous, free spirit. As the young couple contend with a lack of heat, a skylight that leaks snow, several long flights of stairs, oddball neighbor Victor Velasco, and Corie's well-meaning mother, they must also reconcile their own personal differences in how they approach life's challenges. Adjusting to married life isn't so easy!
Play By: Neil Simon
Directed By: Chelsea Bassett
Performances – Sentry Theater – 1800 Northpoint Dr. Stevens Point:
February 7, 8, 14, and 15 at 7:30pm
February 9 and 16 at 2pm
Yes Virginia, There is a Santa Clause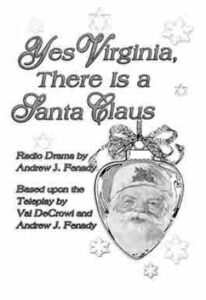 A young girl writes a letter to the editor of the New York Sun. "Dear Editor, I am eight years old. Some of my little friends say there is no Santa Claus. Papa says if you see it in the Sun, it's so. Please tell me the truth. Is there a Santa Claus?" Ed Mitchell, the editor, assigns Frank Church—a reporter on the verge of self destruction—the task of answering Virginia's question. Church's quest and reply have become one of the world's most quoted and beloved editorials. Playbook format.
Play By: Andrew J. Fenady. Based upon the teleplay by Val de Crowl and Andrew J. Fenady.
Directed By: Renee Wiedmeyer
Performances – Sentry Theater – 1800 Northpoint Dr. Stevens Point:
December 20 and 21 at 7:30pm

Cast:
Announcer/Dominic Donelli/Pryor/Blake– Jeffrey John
Edward P Mitchell/Otho/Mr Schuller/Red-Seth Habhegger
Frank P. Church/Jim (Engineer)/ O'Hara– Larry Iverson
James O'Hanlon/Newsboy/Old Man-Bob Bell
Virginia O'Hanlon-Zoe Zalewski
Evie O' Hanlon/Susan-Michelle Nerren
Julie/ Sean O'Hanlon-Addison Towery
Cornelius Barrington/Chambers/Goss/Husband-Steven Witt
Andrea Borland /Officer 2-/Child (p61)-Tonya Haze
Mrs. Goldstein/Thief/Scotty/Attendent-Anna Fehring
Teddy Murry/Celeste Donnelli/Shannon-Monica Davisson
Maria Donnelli/Officer 1/Fritz/Wife -Amie Tolbert
Sargent Flynn/Voice (p43)/Atkins-Kookie Stieber
Commericals-Laurel Hoeth, Kookie Steiber, Tonya Haze, Anna Fehring
The Drowsy Chaperone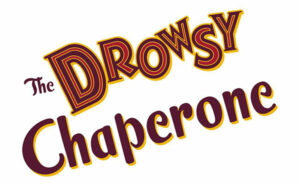 Winner of five Tony Awards, including Best Book and Best Original Score, The Drowsy Chaperone is a loving send-up of the Jazz Age musical, featuring one show-stopping song and dance number after another.
Play By:  Bob Martin and Don McKeller and music and lyrics by Lisa Lambert and Greg Morrison
Directed By: Amy Schwaab
Performances – Sentry Theater – 1800 Northpoint Dr. Stevens Point:
October 25 and 26 at 7:30pm
October 27 at 2pm
November 1 and 2 at 7:30pm