Leaving Iowa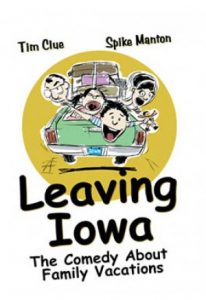 A wonderful combination of nostalgia and humor, tears and laughter, Leaving Iowa the story of Don Browning, a middle-aged writer, who has a mission to take his father's ashes to his childhood home, as requested. But when Don discovers Grandma's house is now a grocery store, he begins traveling across Iowa searching for a proper resting place for his father. Don's journey leads him to reconcile his past and present at the center of the United States. Leaving Iowa is a postcard to anyone who has ever found himself or herself driving alone on a road, revisiting fond memories of his or her youth.
Stage Play: by Time Clue and Spike Manton
Directed by Steve Martin
Asst. Director  Amber Zietlow Michur
Performances: May 11 and 12 at 7:30pm at Sentry Theater.
May 13th at 2pm at Sentry Theater
Buy Tickets Online Or purchase by mail or at the door if not sold out
Cast List
Our fabulous performers, who devote countless hours of work for rehearsal!  All for the love of theater!
Scott Price – "Don"
Larry Iverson – "Dad"
Lauren Priest – "Mom"
Carrie Dreger – "Sis"
Belinda Caldwell – "Clown"
Michael "Mick" Wheaton – "Clown"
Production Crew
An important part of any show is the "behind the scenes" crew, the unsung heroes who take care of the multitude of miscellaneous tasks necessary for any successful cwACT show!
Asst. Director/Publicity/Stage Manager/Raffle Coordinator -Amber Zietlow Michur
Board Liason/Publicity/House Manager/Producer – Amanda Simons
Kaylaa Becker – Publicity
Martha Bawara – Set Design
Ed Morrison – Set Shop
Christopher Engebretsen – Set Art
Mike Edgren – Props
Gina Jimenez – Costumes
Nathaniel Springer – Light and Sound Design
Julie Blanchard – air and Makeup Design
Helena Collins-Price – Director Mentor
Ish Jimenez – Poster/Publicity
Steve TerMaat – Jack of All Trades
Volunteer
It's fun – and a great way to meet new friends!